Shankar To Remake PK in tamil With Vijay In the lead?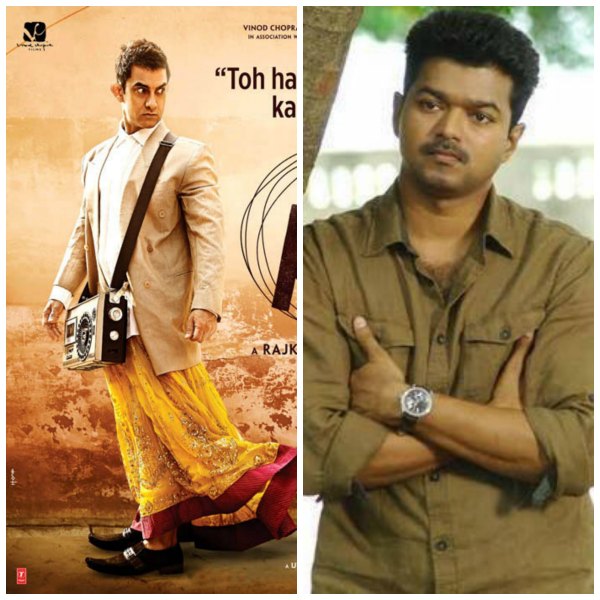 The tremendous success of Aamir Khan's "PK" has led to rumours that the film will be remade in southern languages.

Rajkumar Hirani's 'PK' which stole the hearts of mass audience crossing Rs.300 cr in just 3 weeks might be remade in Tamil. PK which was released on December 19 has Aamir as the lead actor. Actors like Anushka Sharma, Sushant Singh and Boman Irani also played crucial role in the movie.
Director Shankar who is awaiting for the release of his upcoming movie "I", might remake PK in Tamil. Shankar had recently praised Aamir Khan by calling it an enlightening, thought provoking and meaningfully funny film. Shankar also said the movie was well written and directed by Rajkumar Hirani and it also had Aamir Khan's world class performance.
Director Rajkumar Hirani's super hits 'Munnabhai MBBS' was
made into 'Vasoolraja MBBS' with Kamal Hasan while, '3 Idiots' was also remade by Shankar as 'Nanban' with ilayathalapathy Vijay in lead.
Despite all the controversies, Hirani's 'PK' has become the hot topic for various film producers and directors.
There are possibilities therefore that "PK" also might see a remake, but there is no official word in this regard. If it happens, it will be interesting to see who reprises Aamir Khan's role.
Recently director Shankar had insisted actor Vijay to watch the Aamir Khan starrer and had told him that he intended to remake the film in Tamil.
Vijay, fan of Aamir khan's, took a break from his busy schedules to watch PK. He appreciated the film crew. When this news begin to spread, his fans started to speculate on the possibility of Vijay working in the tamil remake of it. Vijay is currently busy with his upcoming film "Puli," which is expected to hit the screens during Diwali festival.
Post the completion of "Puli," Vijay is likely to begin shooting for his 59
th
film referred as "Vijay 59." The film will be directed by Atlee of "Raja Rani" fame. If "PK" remake happens, Vijay might be able to take up the film only after completing his current assignments.